Registration for 2019 program is full.
Dates: Tuesday, April 30 – Thursday, May 2*
Times: 9 a.m. – 2 p.m.*
*Please note: Thursday, May 2 ends at 1:30 p.m. to accomodate early dismissal.
Location: Edmonton EXPO Centre
Cost: FREE
Who: Grade Four Students
Amazing Agriculture presented by Martin Deerline is a free educational experience, produced by Northlands, designed to teach Grade Four students from the greater Edmonton area about our province's vibrant agricultural industry.
Through interactive learning stations, students will develop new awareness and understanding of where their food comes from and how it is produced.
★ Recognized by the International Festivals and Events Association's Silver Pinnacle award for Best Educational Program, Under $100,000.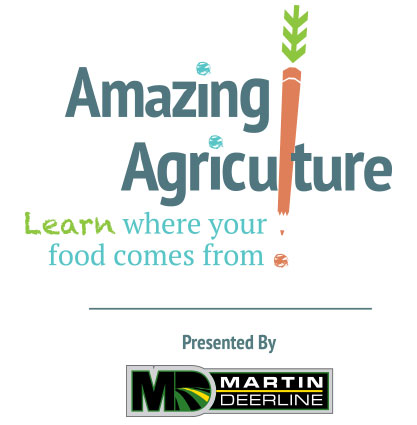 Thank you to our 2019 exhibitors:
Alberta Beef Producers
Alberta Canola
Alberta Chicken Producers
Alberta Egg Producers
Alberta Farm Animal Care
Alberta Goat Association
Alberta Milk
Alberta Pulse Growers
Alberta SPCA
Alberta Turkey Producers
Alberta Wheat Commission
Arabian Horse Reading Project
Chicken John's Small Livestock
No Harm on the Farm
Northlands Bee Club
Organic Alberta
Potato Growers of Alberta
Reynolds Alberta Museum